Completely compatible with VOIP phones as well as analog sets. Unlike your typical computer or appliance, Unlimitel has covered all your customer's traditional telephony requirements. Music on Hold (MOH) and Paging can be cumbersome to add to a data centric solution as is power failure transfer (PFT), but all are included in the Unlimitel's IP-PBX. The configuration of the appliance is web base and can include up to 9 ports of a combination of FXO/FXS plus VOIP stations and trunks. The appliance is designed to address businesses with up to 50 phones.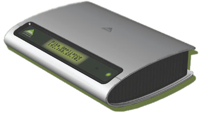 Features & Benefits
Click here to test a live demo of our Warp IP-PBX system
AMCC Power PC 440EP Embedded Processor

10/100BT Ethernet port

One USB host port

One FXS port with every unit

4-port FXS modules and 4-port FXO modules can be used in any combination to a maximum of 8 additional ports

Each 4-port module also contains a power failure transfer jack (RJ-11)

Audio in, Audio out jacks for music-on-hold and paging functions

Externally removable SD flash memory card - no hard drive failures to worry about

Custom settings are stored on the flash card to facilitate unit replacement

40 character (2 x 20) LCD backlit display with scroll button (API controlled)

Power LED

Reset Button

External brick-format universal power supply

Surface standalone/stackable or wall mountable to accommodate any space requirements

Dynamic thermal management

Phone features:


| | | | | | |
| --- | --- | --- | --- | --- | --- |
| Unified voicemail | Digital receptionist | Follow me | Group ringing | Menu schedules | External Paging |
| Call forwarding | Call waiting | Do not disturbe | Music on hold | Call queues | Parking lot |

SMDR Port for RealTime Billing Servers. Emulation for Norstar/Meridian/Avaya/Toshiba/NEC phone systems for faster integration with existing infrastructure.(in the 2009 release)

Custom Aastra phone configuration tool

Custom Polycom phone configuration tool

Compatible with Norstar, Meridian, Avaya, Toshiba and NEC digital phones with appropriate digital phone adapter.

Compatible with Aastra's cordless digital phone (DECT phones)

Warp Certification Program:
Click here to reserve your seat to our next Warp certification session.
You can become a Warp IP-PBX reseller and installer once you have completed your certification with Unlimitel. As a reseller, you get substantial margins to install our Warp IP-PBX and you also get listed in our database for customer referrals. When a customer purchases a Warp IP-PBX directly from Unlimitel, Unlimitel will sub-ctontract one of our certififed Warp reseller to install the unit at the customer site. This will result into additional revenues for our resellers.